10 Sep 2019
A preview to PLASA Show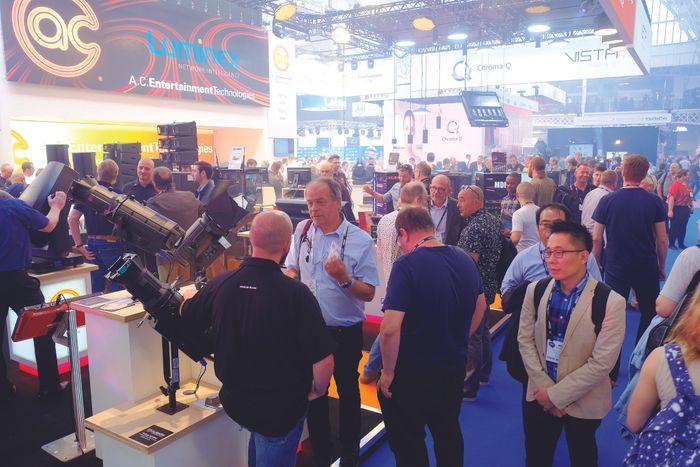 The doors of PLASA Show 2019 open in just a few days from 15-17 September at Olympia London, where thousands of visitors will experience the leading edge of live entertainment technology. With 220+ brands, 55+ educational sessions and a plethora of immersive features, this year's show is ready to serve industry professionals from all sectors.
PLASA's Managing Director Peter Heath comments: "Last year's edition of PLASA Show was heralded for its high footfall and vibrant atmosphere. We have worked hard to build upon this by offering more brands and new features for a show that is both enjoyable and productive.
Of course, we couldn't do it without the exhibitors and their technology which has developed at a dizzying rate over the years – PLASA is proud to provide a platform for such innovation, and we can't wait to share what's in store."
Brand new products
After much hype, the Heritage-D digital console from MIDAS will be at the show, providing hands-on encounters. Coda Audio will display their N-APS, an ultra-compact 2-way arrayable point source, and d&b audiotechnik will display their flexible A-Series. The all-new TrackerD4 Precision Stagetracking from TiMax will also be here.
Robe will launch their new luminaire, Esprite, which has been designed as an LED replacement for discharge fixtures. Other notable lighting fixtures appearing at the show include the Huracán-X from Ayrton, the Maverick MK3 from Chauvet and the Synergy 5 from DTS. Artistic Licence will present their latest lighting control products, including the rackSplit octo and sundial quad. Also, Zero 88 will showcase their FLX consoles.
Netgear are debuting with their array of AV switches, providing simple and seamless integration with your AV systems. BroadWeigh's PLASA Award nominated Bluetooth, which brings affordable wireless load monitoring to small scale rigging, can also be seen at the show. Doughty will present their new Heavy Duty Boom Arm and Scaff Boom Arm. Also, SICO-Europe will showcase their Venue Maker Pro stage system.
Next generation audio
A panel of audio experts, chaired by journalist Phil Ward, will campaign for 'Equal rights for audio' in light of recent concert tours which neglect audio in the rush for spectacular lighting and video. Looking to theatre, Shure will present the future of audio for theatre, exploring how the advancement of technology continues to influence performance and push the industry forward.
'More than a venue' looks at the record-breaking audio installation at the Royal Albert Hall, and how d&b audiotechnik designed the bespoke system for the iconic venue. Elsewhere, 'Sound for worship' will offer four proven ideas for better church audio, discussing what happens when contemporary music meets gothic architecture.
Effective production
Vectorworks will present their latest software which can be used for the entire design and production for a medium sized concert, as well as the new GDTF and My Virtual Rig (MVR), a new data transfer file format introduced by Vectorworks, Inc., MA Lighting and Robe lighting, designed to streamline workflows.
Harman and Sound Technology will present the Martin P3 system which brings creative LED, video panels and fixtures together in one visual canvas. Elsewhere, Netgear will explain how to design an AVoIP network.
LSi columnist James Simpson will present his favourite published research from the last 12 months in 'Future Tech' covering topics such as Blockchain, the Internet of Things, Fortnight – the new concert 'venue', and the results from his piece 'Can a drone be turned into a moving light?'
Tom Harper from Unusual Rigging will chair a panel to discuss the UK government's ambition to transition towards a 'circular' economy, exploring how the industry can make this transition across the supply chain and production process.
Rigging expertise
Following a run of unseasonable weather which has impacted the festival scene, Area Four Industries will address LED screen support structures. Also, PTG Productions will present a new sling which has been developed to stand heat from pyrotechnics.
Looking at safety in production, UK Rigging and PSI will ask "Are we training people to be too safe?" NRAG will unpack employers' responsibilities and will also answer questions in 'Ask the expert' alongside PLASA.
Industry lifestyles
Women in Live Music will host a session on how to survive and thrive in the live music industry, sharing tips on how to gain recognition and find work during the slow season. Soulsound will also provide advice on how to get work in the live event industry. Additionally, BECTU will present a session on tax for freelancers.
Rose Bruford graduate Tom Harrison will speak on the lifestyle of technicians with the latest research to help professionals lead more sustainable lives. As part of a series on mental health seminars, PLASA and a panel of industry leaders will discuss recent developments in their mental health programmes.
Practical lighting training
ETC will host a series of 'Tech Talks' exploring ways to maximise colour and experiment with perception as well as a deep dive into LED technology. Furthermore, they will host training on their Eos and Hog consoles.
Robe will run several training sessions on their RoboSpot unit, offering a basic overview and how it works in conjunction with Robe fixtures. More lighting training comes from ChamSys with their MagicQ and QuickQ consoles and software.
Live audio demonstrations
PLASA Show has doubled the amount of audio demonstrations on offer, including three dedicated 'Audio Lounges' for L-Acoustics, RCF and Sound Technology respectively. L-Acoustics will showcase their A Series; RCF will present a selection of new products including the TTL4A, TT10A, HDL26A, HDM45A and SUB9004AS; Sound Technology will be presenting the JBL VTX and VLAC Series, Crown's I-Tech HD amplifiers, and Soundcraft's Vi1000 and Vi2000 desks.
KV2 Audio will take over the Club Room throughout the show, and in the main demo area, there will be back-to-back demos from Adam Hall, Shermann Audio, Void Acoustics, Aura Audio and OHM.
Stage to Studio: Recording a live band
Brand new to PLASA Show is Stage to Studio, in association with Sound On Sound and Headliner magazines. Happening on the Sunday and Monday of the show, these sessions will see hotly tipped artists perform live with their bands while being recorded by engineers who have worked with the likes of Kanye West and Noel Gallagher. With the engineer's Digital Audio Workstation displayed above the stage and live commentary, the audience will learn top level techniques for capturing high quality sound from the stage.
Warming up each recording session is a handpicked selection of acoustic acts courtesy of Tony Moore, who began his career as an original member of Iron Maiden who went on to promote acts such as Ed Sheeran and Paolo Nutini.
Blackout installation
Appearing at PLASA Show this year is the immersive installation 'Blackout' created by Guildford School of Acting lighting tutor Mig Burgess. Blackout is on a mission to change the way people think about mental health and uses the power of cutting-edge lighting, sound and video to take visitors on a journey into the Bipolar II mind.
PLASA Show is returning to Olympia London from 15-17 September. For further information visit www.plasashow.com