12 Jul 2018
PLASA Show 2018 announces first wave of seminars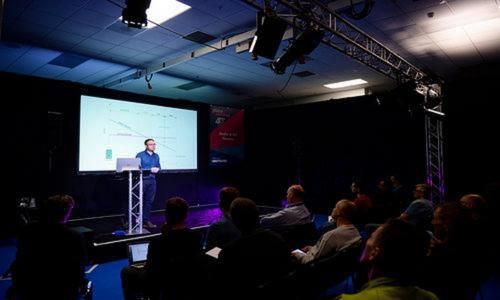 PLASA Show, the world-wide event for entertainment technology, is returning to London Olympia from 16-18 September, and the seminar programme is beginning to take shape. Attendees will have access to back-to-back professional development sessions across the three days, delivering content from all sectors of the industry including lighting, live sound, AV, rigging and staging.
Only a slice of what's to come has been announced, but many hot topics are already covered, from immersive audio and the latest AV technology, to pioneering design software and electrical updates.
Audio experts from Britannia Row Productions are hosting a series of seminars to help both the younger generation and seasoned professionals. As well as discussing the future of immersive audio and outlining their training courses, Britannia Row will run a demonstration of speaker system prediction software to create a system design for an arena, and legendary sound engineer Simon Hodge will build a mix from scratch using a multitrack recording.
The SoundGirls make their debut at PLASA Show with a future-focused panel looking to bring the audience closer with live mixing apps, immersive sound systems and a whole new generation of technology. Furthermore, freelance recordist Richard Merrick and Jonathan Edwards from Terry Tew Sound and Light will present a session on wireless audio, in association with the Institute of Professional Sound.
AVNU Alliance representatives Genio Kronauer of L-Acoustics, and Henning Kaltheuler of d&b audiotechnik will present an introduction on the new application layer protocol for guaranteed future-proof AV networks. For those who work in production, construction and engineering, Brandon Eckstorm of Vectorworks Spotlight will showcase the offerings of the industry-leading software for entertainment design.
PLASA continues its series of seminars on mental health issues within the industry with a panel including Dawn Collins who has offered training to the BBC. Additionally, PLASA and AV Magazine will present a PLASA-members-only seminar revealing initial insights from industry wide research.
James Eade will host two seminars covering electrical standards and generator earthing: those involved in manufacturing, distributing, hiring or building will need to know the coming changes in UK electrical standards; and those working with temporary power systems will appreciate the latest guidance in generator arrangements.
The first seminars for lighting professionals is a co-hosted panel with the Association of Lighting Designers and the Association of Sound Designers who will unpack collaboration and the creative process and how lighting designers can deliver a product that fulfils expectations. The first business seminar comes from brand advisor Shéa Bennett who will reveal how to add magic to live events like never before.
New for this year is a dedicated Rigging, Production and Structures Theatre which will offer free-to-attend, cutting-edge content throughout the show. Ilan Bahar will look into load monitoring, Scott Stewart will reveal the underlying forces of circus and aerial rigging kinematics, Dave Weatherhead will provide solid advice about automation in productions, and an international panel will brainstorm to identify solutions to problems of working from trusses.
To register for the show and sign up for seminars visit: www.plasashow.com.