13 Aug 2019
PLASA Show 2019 programme launch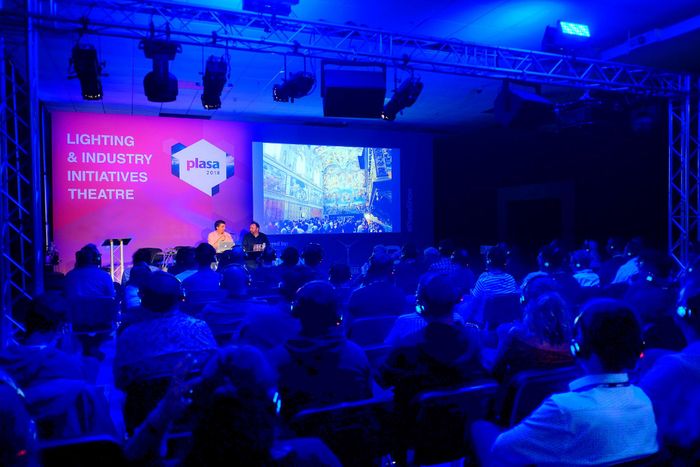 PLASA has announced its line-up of seminar sessions in the run up to the PLASA Show 2019 (15-17 September, London Olympia). In collaboration with top industry figures and influential brands, this year's programme presents an array of impressive creative achievements as well as many salient industry issues and will prove once again to be a key part of the show experience.

As ever the programme is free to all visitors at the show, with free registration open until 30 August after which a £12 fee will be introduced.

Audio journalist and consultant Phil Ward will lead a panel of industry figureheads - Chris Hill from Wigwam, Jim Griffiths from Vanguardia and Steve Jones from d&b audiotechnik - to campaign for 'Equal rights for audio!' They will assess how live performances, including the recent Spice Girls reunion tour, can neglect audio in the rush for spectacular video, lighting and set design.

Moving from concerts to theatre, Shure will present the future of audio for theatre productions, in association with Curtain Call. This panel will explore how the advancement of technology, such as wireless and lavalier mics, continues to influence performance and push the industry forward.

Addressing the people in pro audio, Women in Music will host a session on how to survive and thrive in the live music industry. They will share tips on how to gain recognition, create an impressive CV, keep busy during the slow season, and prevent burn out when on the road.

Continuing on this theme, Rose Bruford graduate Tom Harrison will speak on the lifestyle of technicians. Working on the road is notoriously hazardous for diet, sleep and exercise, but Tom is equipped with the latest research and insights to help those interested in leading healthier and more sustainable lives.

James Simpson, 3d visualisation designer for the Royal Opera House and the author of LSi magazine's Future Tech column, will present his favourite research from the past year, including Blockchain; intelligent nail varnish; 5G; Big data; the Internet of Things; Fortnight – the new concert venue; and his most popular piece – 'Can a drone be turned into a moving light'.

Vectorworks will present their latest software which can be used for the entire design and production for a medium sized concert, as well as the new GDTF and My Virtual Rig (MVR), a new data transfer file format introduced by Vectorworks, Inc., MA Lighting and Robe lighting, specially designed for the entertainment industry to streamline workflows.

Following a run of unseasonable weather which has impacted the festival scene, Norbert Tripp from Area Four Industries will address LED screen support structures – what a load-bearing structure looks like, and how they behave during high winds.
Also looking at safety in production, Harry Box from UK Rigging and Sean Pagel from PSI will ask "Are we training people to be too safe?" The speakers will discuss whether purpose-built venues and dedicated rigging systems have led to complacency and professionals who rely on perfect working conditions.

In addition to their dedicated audio lounge, L-Acoustics will host a seminar on their innovative L-ISA Immersive Hyperreal Sound Technology. Using case studies (Mark Knopfler, alt-J and EartH Hackney), their presentation will focus on scalability and portability from a mixing studio content to a full-scale live performance.

Out Board 's session will ask "What's immersive?", unpacking the motives, expectations and realities of immersive spatial audio and showcontrol for live performance, presentation and experiences.

The latest regulations and guidance will be addressed at the show, including PLASA's Lightning Safety at Outdoor Events guidance, the ABTT's Technical Standards for Places of Entertainment, Lifting Operations and Lifting Equipment Regulations (LOLER), and BS 7827 for large venues and stadiums.

Alongside the programme, visitors can enjoy an abundance of audio demos, including lounges for L-Acoustics, RCF and Sound Technology as well as a KV2 Audio demo room and a main space featuring Void Acoustics, Shermann Audio, Aura Audio, Adam Hall and OHM.

New for this year is Stage to Studio, in association with Sound On Sound and Headliner magazines. This dynamic new feature will see bands performing live whilst being recording and mixed by renowned audio engineer Simon Todkill who has worked with Kanye West, Charli XCX and Matt Corby and many more major artists.

More seminars will be announced in the coming weeks. For more information about the programme and to register for the show www.plasashow.com